Internal workforce data vs. external labor market: How companies can strategically counter labor shortages
Unfilled vacancies or underqualified applicants – tackling labor shortages is becoming an increasingly pertinent challenge for companies across industries and regions. Currently, the German labor market is lacking around 1.2 million skilled workers. According to a WifOR study carried out for PwC, this figure is predicted to soar to over 4 million by 2030. Ensuring long-term workforce requirements are met is a foremost challenge for companies in today's labor market, both within Germany's borders and beyond. However, this by no means represents an unsurmountable hurdle. Strategic workforce planning enables companies to benchmark their workforce against industry and regional averages, examine the internal employee structure in comparison to with the external labor market data and make strategic decisions based on this data.
Why is strategic workforce planning a valuable tool in tackling labor shortage?
The labor shortage situation is going to become more severe as more workers continue to leave the labor market than join it, with the potential to seriously threaten the core functioning of companies. Through a strategic workforce plan, companies can counteract these circumstances. However, this necessitates not only a mapping of the status quo, but also of future developments in the labor market. This can be achieved through a valid benchmarking combining internal workforce data alongside external labor market data, with the target of enabling companies to develop an HR strategy based on the external opportunities and risks on the labor market in order to enhance strengths and counter weaknesses.
From macro conclusions to individualized actions
Demographic shifts, digitalization, economic cycles, and cultural changes – the labor market is undergoing a period of flux due to a range of factors. Demographic shifts are seeing more workers leaving the labor market than joining it whilst digitalization and the decarbonization of industries are fundamentally altering the skill requirements for many professions. For example, almost half as many high school graduates are opting to undertake vocational courses in comparison to 30 years ago with many more choosing to study academic subjects. Simultaneously, the current priorities of many workers are different from those of yesterday's workers, for example, the increasing significance of maintaining a work-life balance. The "mega-trends" depict what is referred to as the Labor Market 5.0, in which a power shift has occurred between employers and (potential) employees with the focus now resting on people.
However, these trends drive changes on the labor market at a macro level but do not provide specific guidance for a company from which individualized actions can be drawn. In order to devise a customized, strategic workforce plan suitable for an individual company, a range of variable factors, related to industry and regional-specific dimensions as well as professional skillsets, need to be holistically analyzed in comprehensive detail. Definition: Strategic Workforce Planning
WifOR defines strategic workforce planning as the HR management necessary to align a company's internal workforce with the external labor market with the purpose of making the company's vision and future targets attainable.
Strategic personnel workforce using benchmarks: How does it work?
HR benchmarking incorporates two primary dimensions: an internal assessment and an external analysis.
Internal Assessment
Understanding the internal status quo requires a company to assess its current workforce, labor needs, recruitment process and development of personnel (through further education or training, for example). To evaluate the internal workforce, factors such as the average age of workers, the prevailing gender gaps, and the representation of employees with migrant backgrounds as well as the forms of employment (marginal, part-time, full-time) should be measured.
External Analysis
In conjunction with internal data, assessments of the external situation on the labor market, as well as foreseen trends, significant to the company's industry, region, and professional requirements are needed to benchmark a company's performance and identify potential areas of improvement. For example, a company's workforce might be constituted of 51% women employees, lying above the industry average of 46%. However, if over three quarters of employed women occupy positions of marginal employment (reduced hours), there is a significant potential to fill vacancies through internal personnel.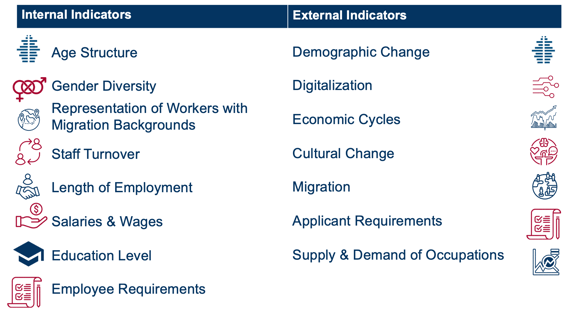 This requires the following measures:
Classifying the internal personnel data by relating it to industry benchmarks. For example, in the context of average age structure, representation of different genders, representation of employees with migration backgrounds staff turnover, staff retention, salaries and level of education.
Matching labor demand with supply by assessing the sectoral, regional, and occupational situations. Is there a sufficient labor supply in my region over the coming years to suit my needs? Are there other regions or occupational profiles which can supplement my labor requirements?
Understanding the priorities of (potential) applicants. What does my company currently offer? Where does my company have capacity to become more attractive to (potential) applicants beside aspects such as salary?
Strategically smart decision-making based on developed scenarios. For example, proactively recruiting workers can save costs if the skilled labor situation is to becomes even more precarious in the following years as the hiring process will drag on, costs will increase, and work will be left undone. This is influenced by factors such as turnover, new hires, internal training and bottlenecks.
Find out in this video outlining example case-study scenarios how a strategic workforce plan can lead to strategically smart decision-making.

In essence, strategically addressing HR planning involves assessing the broader developments on the labor market but consequently interpreting this scenario according to a company's unique situation. This process enables HR strategies to be implemented which reflect the strengths and weaknesses of a company's workforce whilst responding to the opportunities and risks on the external labor market.
Guidance for strategic workforce planning would address questions such as the following:
What will my workforce look like in 2030 and will it be sufficient to implement the business processes?
How can alterations to the demographic structure (age, gender, migration) of my company provide support?
When is the optimal period for my company to recruit personnel?
Does my company's region face particularly acute shortages? Where can I recruit employees from?
Which professions relevant to my company are threatened by shortages of skilled labor?
How will digitalization impact my company's labor supply?
What impact will an increasing academization and decreasing number of vocational applicants have on the pool of workers available to my company?
If you are interested in workforce benchmarking or have questions on the topic, please do not hesitate to get in touch using the email found above. To find out more about the Labor Market 5.0 and how Diversity and Inclusion (D&I) can be utilized to address labor shortages, read here.
These articles might also be of interest: