What does the new Supply Chain Act mean for companies?
Collapsed textile factories, polluted rivers, child labor. For a long time, compliance with social and ecological standards by suppliers of globally active companies was voluntary. A new law is to oblige companies to prevent human rights violations and environmental damage along their entire supply chain. What does this mean in concrete terms? What requirements will companies have to meet in the future? How can companies become pioneers in dealing with the new Supply Chain Law? Scroll down for an overview!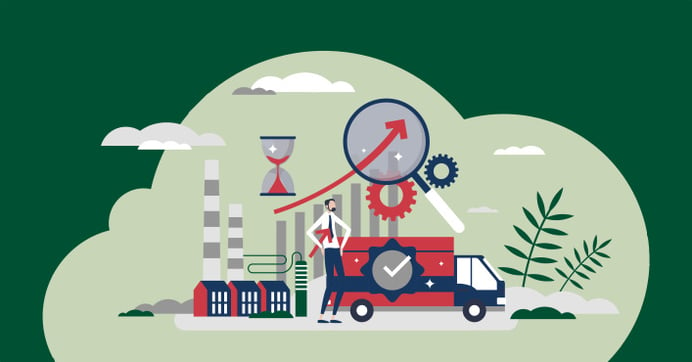 The Supply Chain Law - Definition

In the past, compliance with social and ecological standards by suppliers of globally active companies was based on the voluntary. However, experts in human rights, society, and politics believe, this has not led to sufficient results. The new Supply Chain Law aims to create a legal framework for improving human and environmental rights along global supply chains.
History, Status Quo & Outlook
2019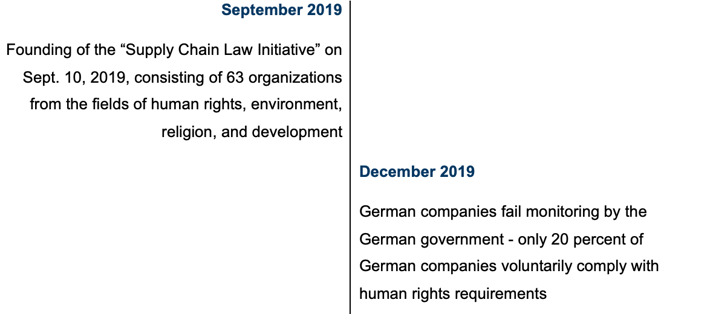 2020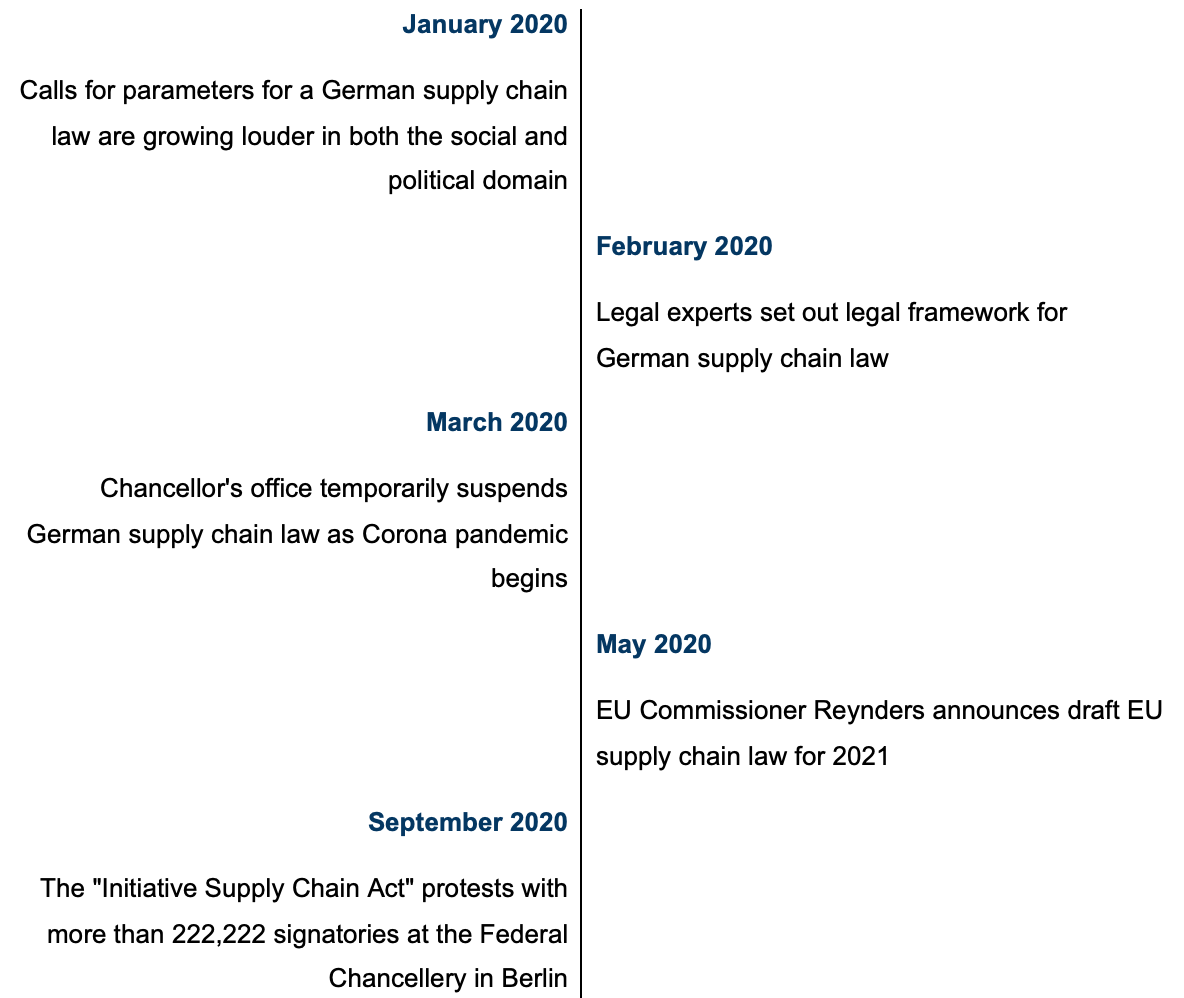 2021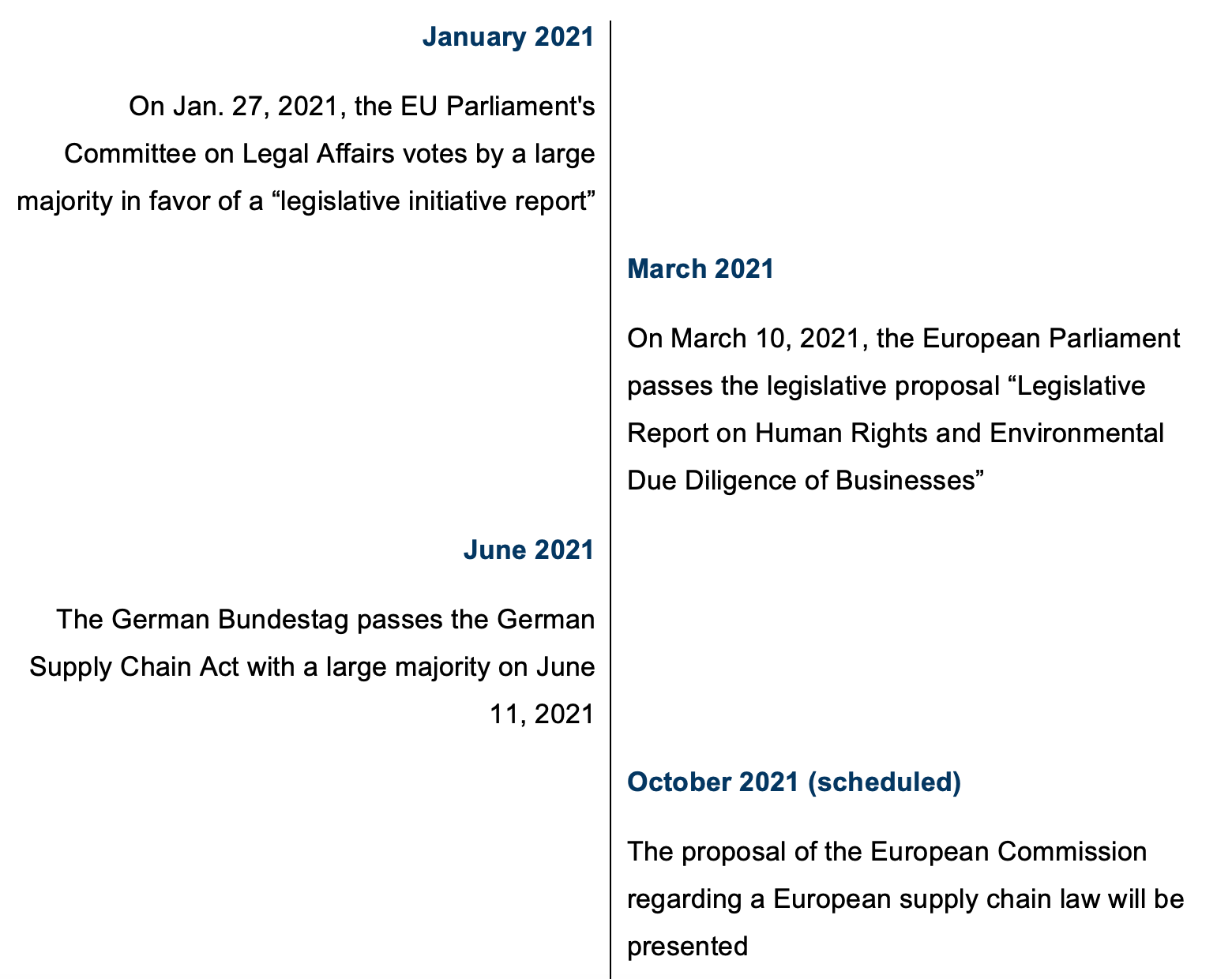 The European Supply Chain Law

On March 10, 2021, the European Parliament adopted the legislative proposal "Legislative Report on Human Rights and Environmental Due Diligence Obligations of Businesses". Legally, this legislative report is a recommendation to the EU Commission to adopt a European supply chain law. If this directive is adopted, the governments of the respective countries are required to transpose it into national law. This would mean that existing supply chain laws such as the German Supply Chain Act, the Dutch Supply Chain Act or, for example, the French Loi de vigilance would have to be adapted to the content of the directives. The European Commission's proposal is to be presented in the fall of 2021.

The German Supply Chain Law

On June 11, 2021, the German Bundestag passed the "Act on Corporate Due Diligence in Supply Chains". This means that companies headquartered in Germany with 3,000 or more employees will in the future be required to analyze human rights risks in their supply chains, take preventive and remedial measures, establish complaint procedures, and report on these activities.

A comparison of the German and European Supply Chain Laws

Both drafts fundamentally aim to ensure that human rights are respected in business and that global supply chains are presented more transparently. However, there are significant differences between the two approaches in terms of size, scope of application and the possible consequences for the obligated companies.

Unlike in Germany, the EU Parliament requires all companies to check their upstream products at every stage of the supply chain. This should also apply to small and medium-sized enterprises (SMEs) if they are capital market-oriented or active in the EU single market. Financial services companies and companies operating in high-risk sectors, such as the raw materials or textile industries, will also be required to audit their primary products. According to current expectations, these companies will in the future be required to analyze potential risks in their entire supply chain. This therefore includes not only their own business operations and those of their direct suppliers, but also the indirect field of activity of the suppliers of the subsidiaries. All aspects that violate human rights, including social, trade union and labor rights, environmental standards, and climate targets would have to be identified and remedied. The proposal also provides for additional measures such as a ban on products associated with forced or child labor. Here, companies must prove that they have acted in accordance with due diligence and have taken measures to prevent damage or compensate lead victims.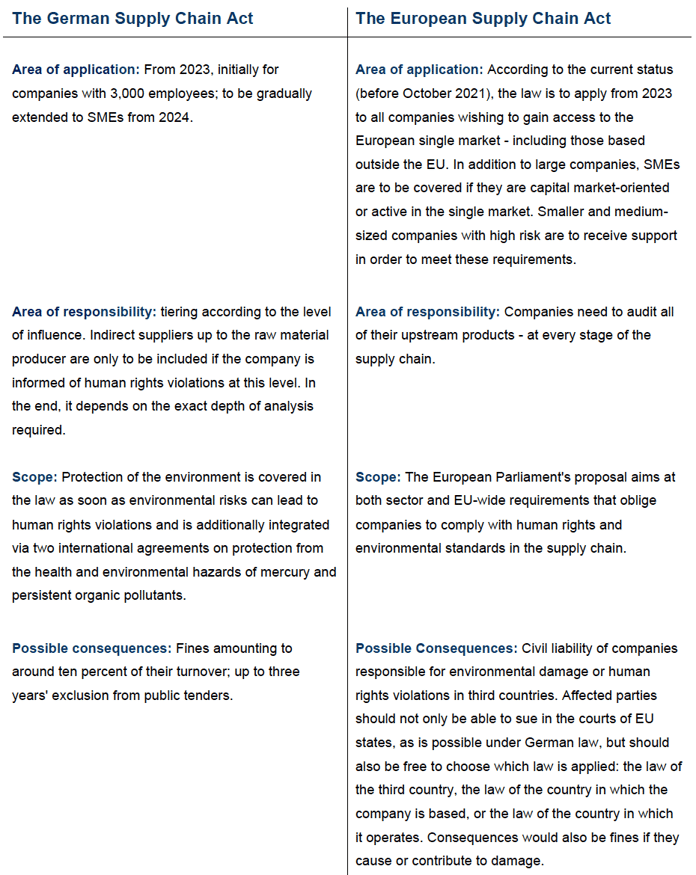 Pros and Cons for companies

In principle, the European Supply Chain Law would have an impact on competition in that there would be more legal certainty for companies as a result of EU-wide harmonization of due diligence and accountability obligations. Disadvantages for companies in European competition, such as those currently resulting from existing national supply chain laws, would, in some cases, be eliminated. Competitive disadvantages for companies that already invest voluntarily in sustainable supply chain management could also be reduced. However, it should also be noted that it is an enormous challenge for globally active companies with highly fragmented supply chains to identify deficiencies that exist along their supply chain. To meet the corporate due diligence obligation under the German Supply Chain Law as well as to prepare for the upcoming EU directive, companies need a holistic overview of their social and environmental impacts. This enables them to derive targeted measures that also help meet the requirements of various stakeholders such as consumers, investors, and NGOs.
The following articles might also be of interest: